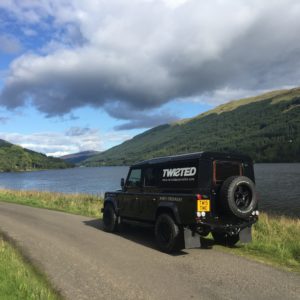 Defender Jam
Defender Jam started life as the @Scottishdefenders instagram page that justifies why the owner took lots of Land Rover pictures. It has grown into a festival, a shop and has some 6k plus followers who regularly share photos, share advice, share items for sale. Follow the page on Instagram @defenderjam
Defender Jam – The Festival 'Meet, Eat and Love Land Rovers'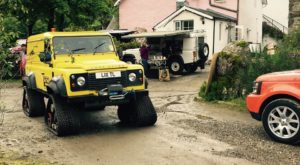 Defender Jam is a family day and night set in the stunning backdrop of Monachyle Mhor, Balquhidder, near Callander. The idea behind this is to bring together like-minded people who like Land Rovers, good food and drink and a fun day that the whole family will enjoy.
This is a relaxed day to bring together fans of Land Rover. Whether you are an avid collector and enthusiast, or you use one for – work/off-roading/greenlaning/fishing/family bus/or just like them, there will be something here for you. There are no competition or rosettes, but people with a common interest relaxing while enjoying the back drop of Monachyle Mhor a luxury, boutique hotel which is ideally located roughly an hour and a half away from Glasgow and Edinburgh in beautiful surroundings.
There will be vehicles on show from industry, show-pieces, historic to modified and more. Defenders, Series, 101s, Range Rovers, Discos, Freelanders etc. There will be representatives from Scotland's top Land Rover Specialists, plus after market parts, spare parts, modified parts, national and local companies, off road track, merchandise, art, clothing brands, home wear,  street art mural painted over the day, greenlaning track, mini Land Rovers, plus a bar and the 'Disco Very' barn dance with DJs and live entertainment for adults in the evening.
There will be loads of excellent street food on site, BBQ, hog roast, Mhor Fish, Mhor Bread, fish and chips, etc. plus craft beer and full bar.
You can book a camping spot or just turn up on the day this is NOT just for owners, but a family day for fans. PS. It is not essential to be driving a Land Rover!
Please note – We are dog and child friendly!
There will be a late breakfast barbeque for those who stayed over, whether that be in Monachyle Mhor, camping, or nearby sister motel Mhor 84.
This is a day of fun for like minded people!
August 18th 2018 for confirmed for DEFENDER JAM 2018!